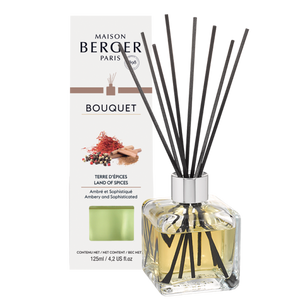 Parfum Berger - Land of Spices Diffuser
£1800

£18.00
Tax included.
---
---
Maison Berger - Parfum Berger Scented Bouquet Cube Diffuser
Dreams of Oriental fragrance - Land of Spices 
Just for a moment, capture the irresistibly oriental swirls of the Land of Spices fragrance with its opulent personality.  
Whatever your decorative style, the Land of Spices scented bouquet adds a touch of elegant simplicity to your home. This return to basics is reflected in the use of the raw material. The transparent simplicity of the glass gives your room a little lightness and fluidity, while allowing it to retain a certain brightness. Playing with line and curves, the cubic shape is softened by rounded corners.
This Land of Spices scented bouquet becomes almost invisible, making it possible to enhance the space and focus primarily on its purpose. Once the reeds have been soaked in the solution, the fragrance can begin to diffuse. The spicy notes of pink pepper and saffron combine with those of amber incense, creating a warmly sophisticated olfactory composition. This exceptional and captivating fragrance is a wonderful accompaniment and adds spice to every moment of your life!
The black designer twigs are made from engineered polymer which guarantees unrivalled perfuming quality: diffusion is optimised and the fragrance is enhanced.
Bouquet pre-filled with the Land of Spices fragrance
Refillable with the 200ml refill for scented bouquet.
To ensure your well-being, our products meet an extremely strict quality charter. Maison Berger Paris undertakes to only diffuse into the air substances that are perfectly mastered and controlled.
Length of diffusion: 4 weeks
6859
---
We Also Recommend