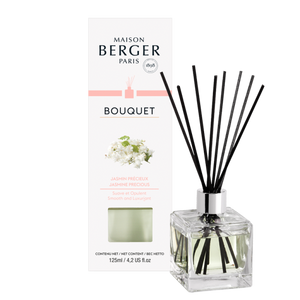 Parfum Berger - Precious Jasmine Diffuser
£1800

£18.00
Tax included.
---
---
Maison Berger - Parfum Berger Scented Bouquet Cube Diffuser
Dreams of Flowers - Precious Jasmine
Precious Jasmine is an exceptional fragrance to discover in a scented bouquet for a floral and exotic atmosphere in your home.
This transparent glass cube screen-printed Parfum Berger and its black engineered polymer twigs will go well in any type of decoration. Diffusion through capillary action allows for intense and continuous diffusion for several weeks.
Jasmine is a symbol of elegance and expresses itself delicately in this refined composition. Precious Jasmine is the mystifying encounter between the heat of jasmine and the exoticism of ylang-ylang. Its floral heart is vibrant and slightly powdery thanks to the presence of carnation and peony. Its sensual femininity reveals subtle fruity notes, giving body to this exceptional fragrance.
Bouquet pre-filled with the Precious Jasmine fragrance
To ensure your well-being, our products meet an extremely strict quality charter. Maison Berger Paris undertakes to only diffuse into the air substances that are perfectly mastered and controlled.
Refillable with the 200ml refill for scented bouquet
Length of diffusion: 4 weeks
HEAD NOTES
Jasmine, Ylang-Ylang
HEART NOTES
Carnation, Jasmine, Pivoine
BASE NOTES
Peach, Apricot, Orange blossom
Product code: 6005
---
We Also Recommend